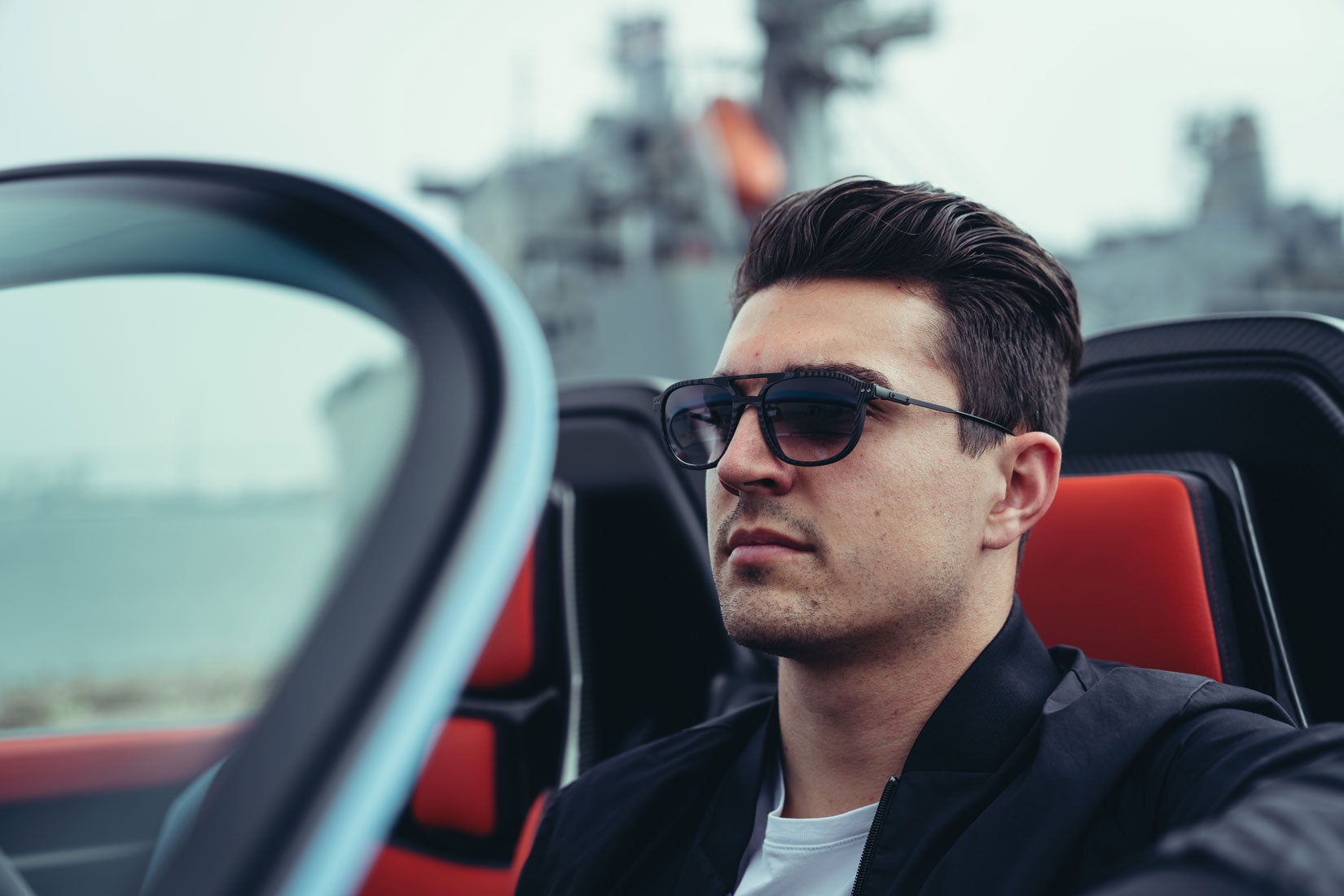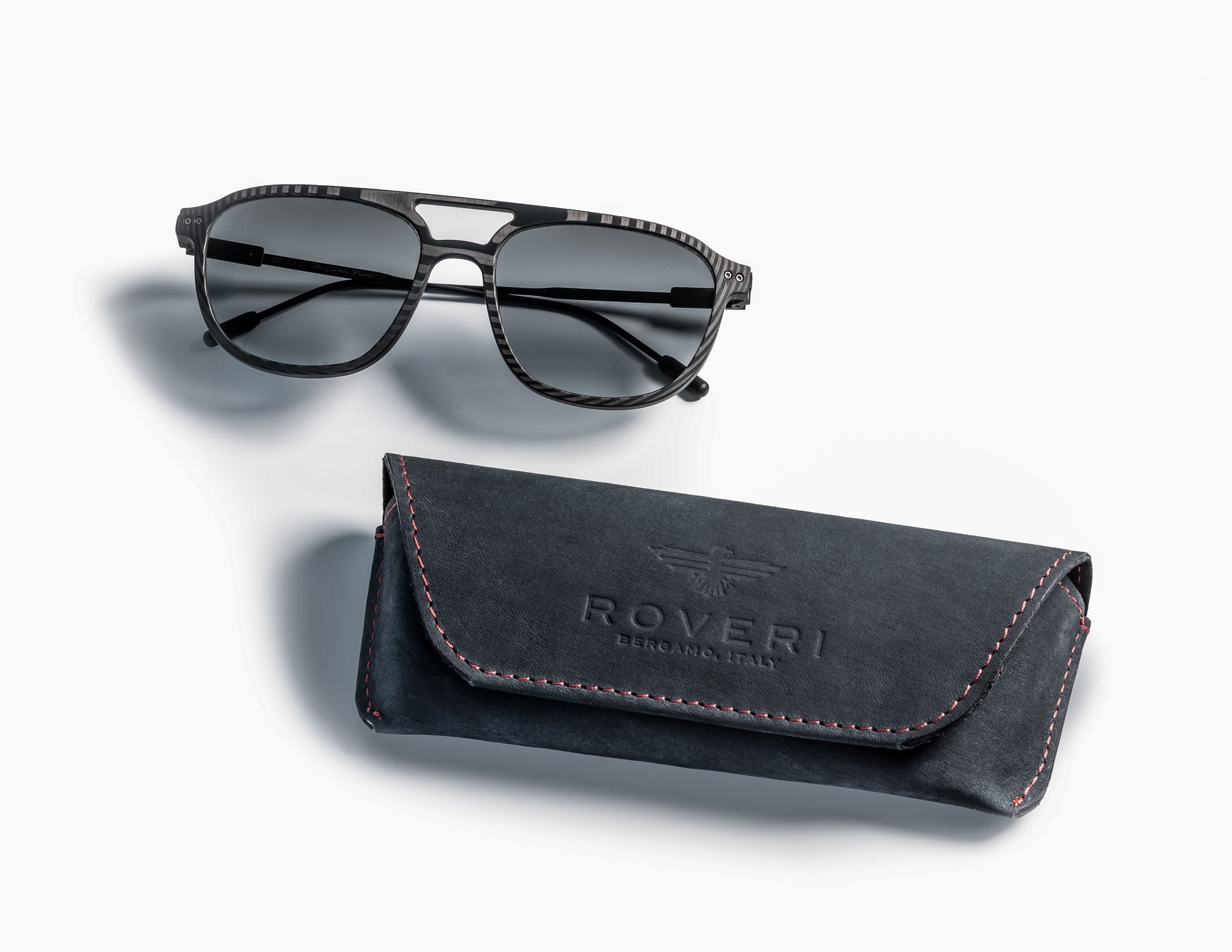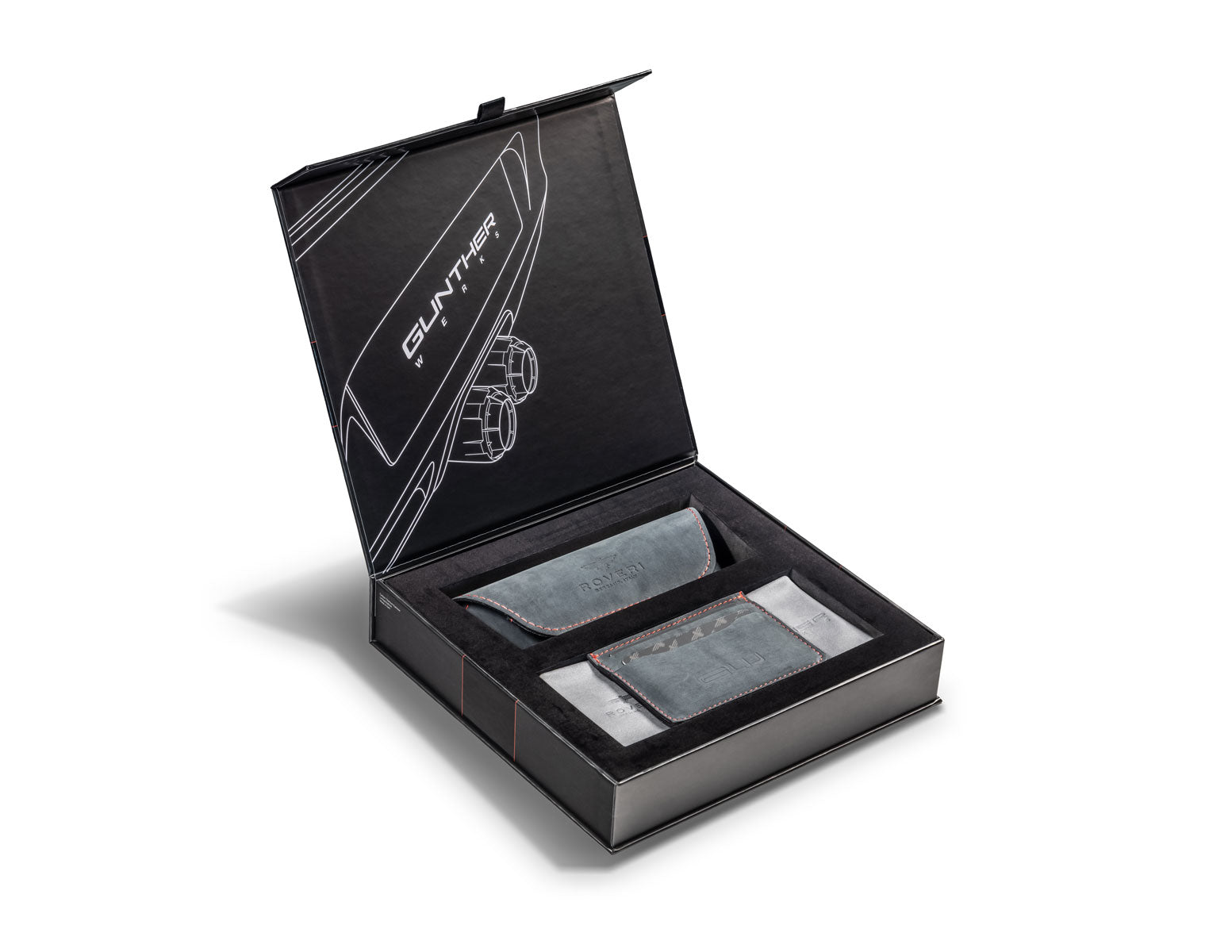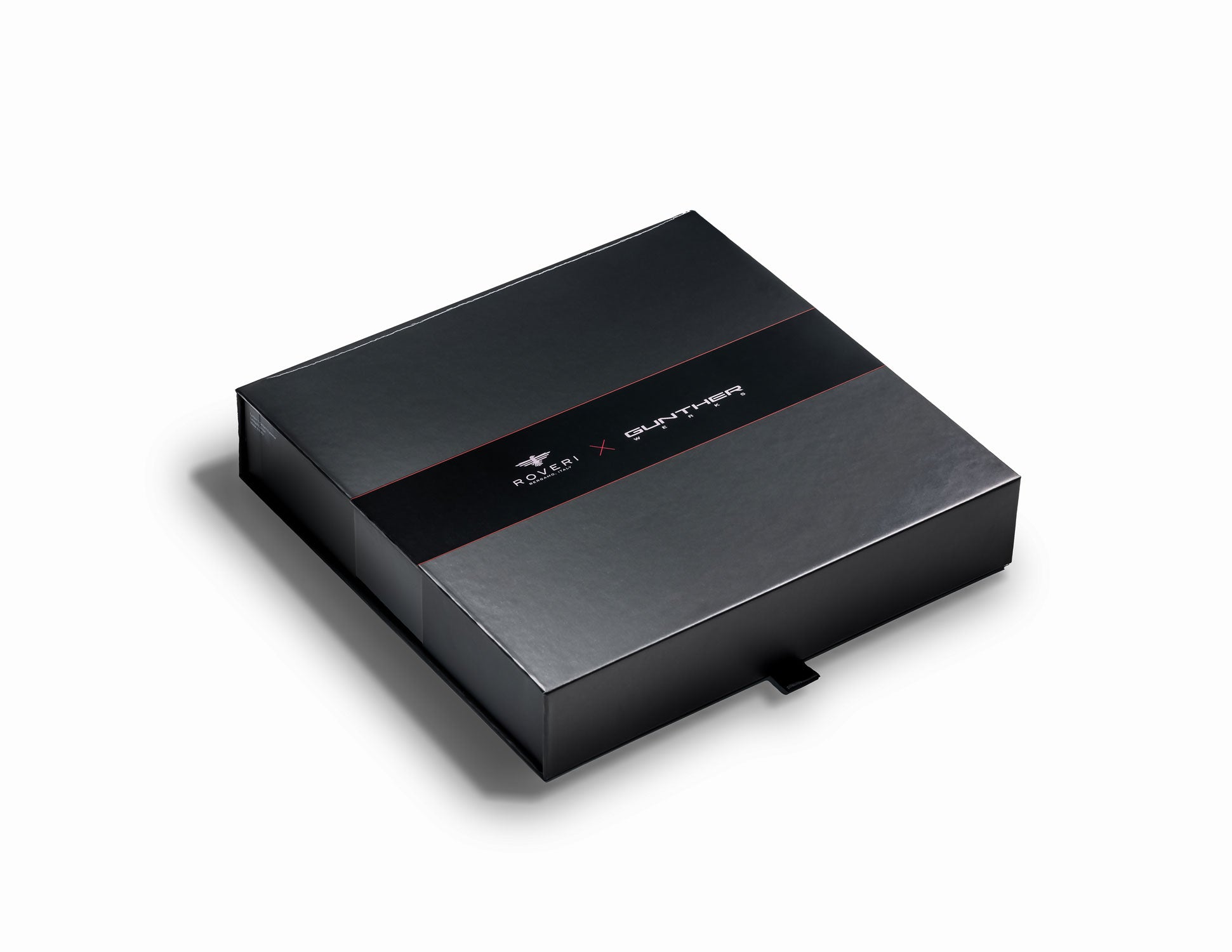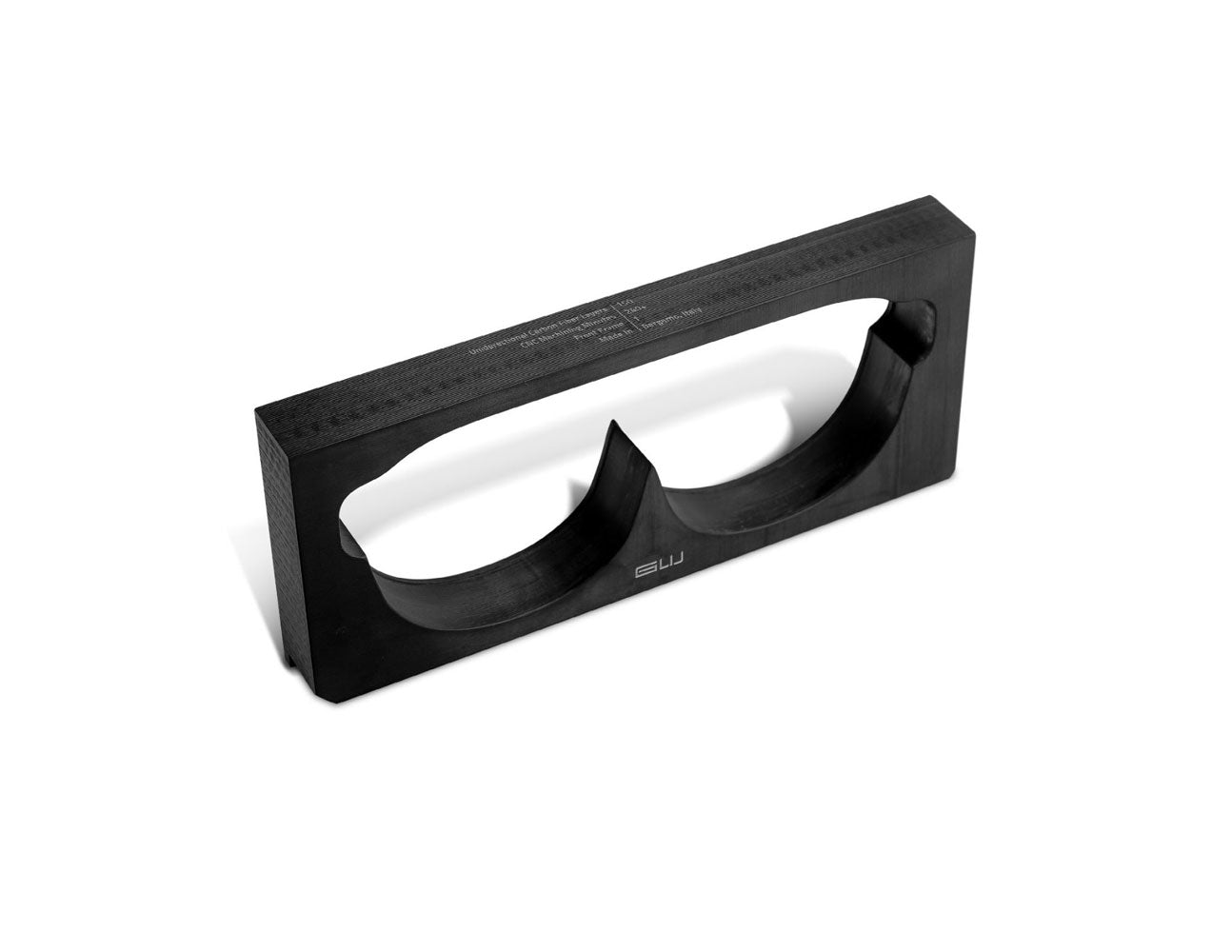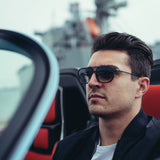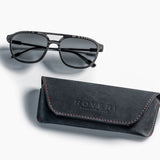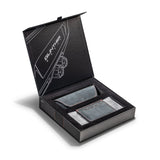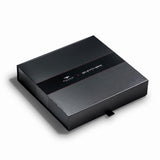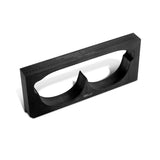 The Carbon Noire is an exclusive and limited edition sunglass model created in collaboration with Gunther Werks.
This eyewear frame features a unique UDCT® carbon fiber front frame, Beta-Titanium temples, and carbon fiber end tips, a revolutionary concept in the eyewear industry.
With a vintage Pilot-inspired design, The Carbon Noire perfectly combines CNC-machined carbon fiber and titanium for unparalleled lightness and comfort. 
This sunglass is a tribute to the naturally aspirated Porsches of the past and is a true icon of modern, high-performance, and bespoke vehicles. It's the ultimate accessory for those who seek timeless design and meticulous craftsmanship.

Tech Specifications:
-Beta titanium frame with hidden hinges and Torx bolts.
-Machined multilayered UDCT® carbon fiber front frame.
-Black PVD titanium frame finish.
-Carbon temple tips.
-Anti-unscrewing hinges.
-Roveri X Gunther Werks engravings.
-ZEISS© Nylon scratch-resistant, gradient dark gray lenses.
-Frame size: 55-17-140
-25 grams of total weight.
-Travel Case: Alcantara® leather, hand-cut, hand-stitched, embossed Roveri Logo with suede liner and nose bridge support. Handmade in Italy.
-Roveri X Gunther Werks microfiber cleaning cloth Limited Edition.
-Alcantara® leather card holder with authenticity cards.
-Carbon fiber scarp block from the production process. (Each carbon fiber scarp block comes from the same carbon fiber frame in the package.)
-Free EXPRESS shipping worldwide.
This frame is compatible with prescription lenses.
-Roveri Eyewear and its products are not in any way associated or supported by Porsche AG or any of its affiliates.
---

Free 7 Days return or exchange.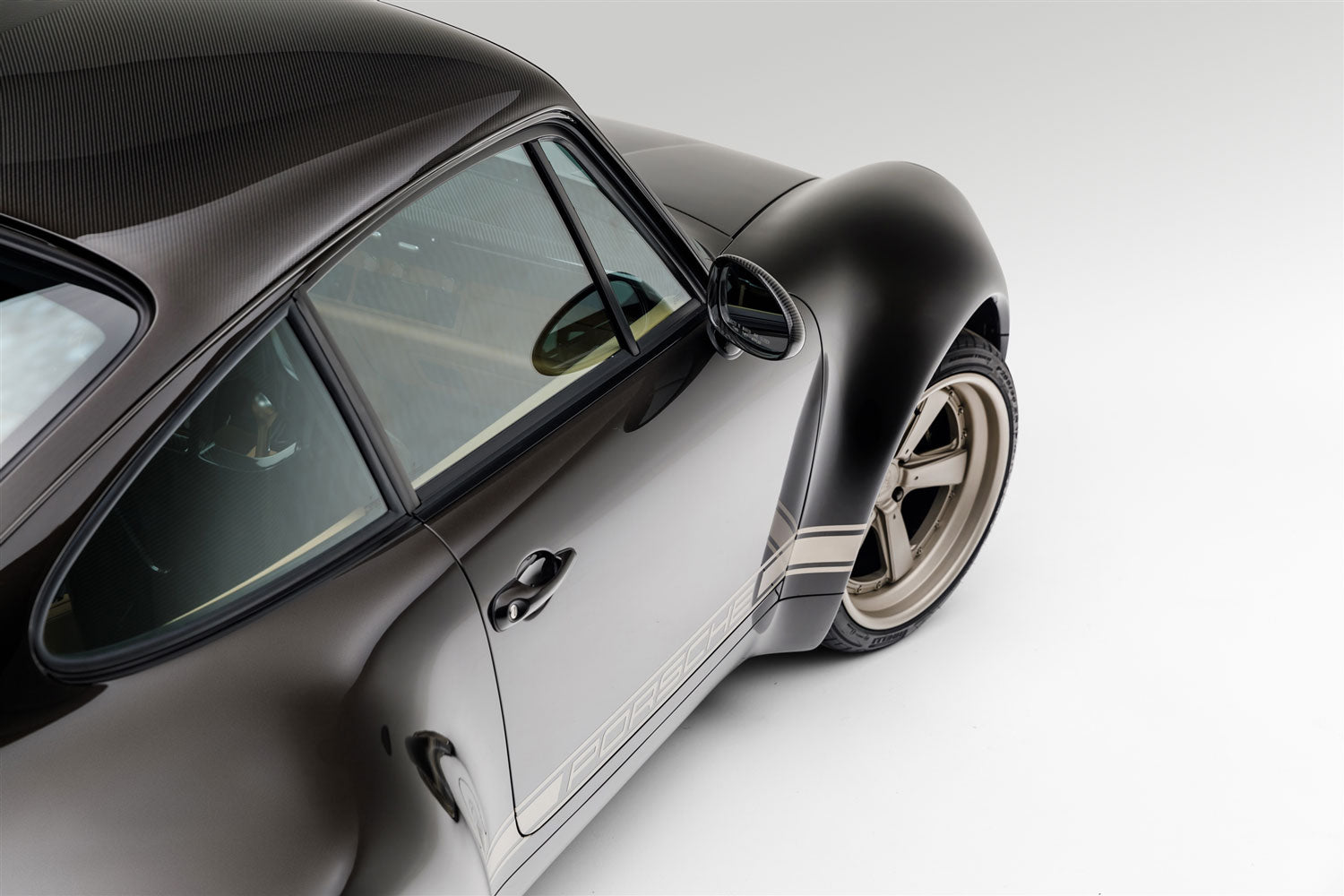 Gunther Werks
The Carbon Noire
The "Carbon Noire Commission" is a remastered version of the 911s based on the 993 generation by Gunther Werks.
The car's name reflects its exceptional carbon fiber and black finish. The carbon fiber displays distinctive brown tones when seen in natural light.
Remastering An Icon
The Carbon Noire pays tribute to the naturally aspirated Porsches of 25 years ago, creating the ultimate homage to a contemporary, high-performance, and bespoke vehicle icon.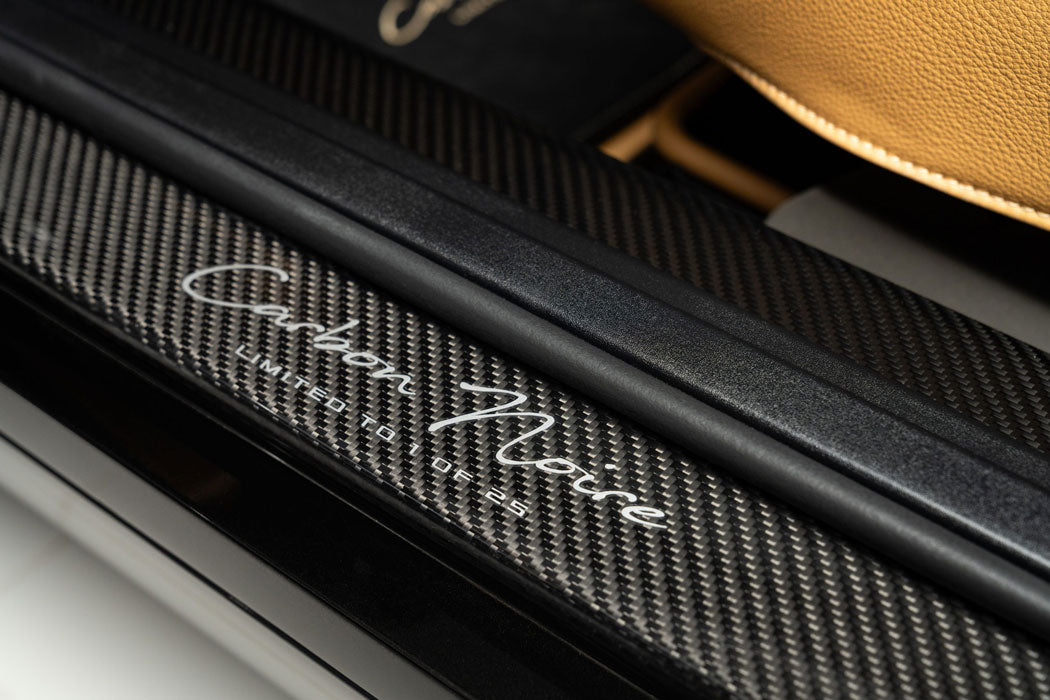 FAQ

Is free Express shipping offered for international orders?

Yes, we do offer free Express shipping on all orders, national and international.

What is the return policy?

The return request must be made via email or form message within seven (7) calendar days of delivery. Return requests outside this window, will not be legible for a return/refund.

Can i use prescription lenses with Roveri Eyewear carbon-titanium frames?

Yes, it is possible to swap the sun lenses for a prescriptions. You can bring the frame after purchase to your favorite optician, or you can send us a message with your lenses specifications and we can provide you a frame with your specific prescriptions.

If the eyewear frame doesn't fit me properly, are there any adjustments i can make?

Yes, Beta-Titanium is a very strong and light material but it allows you to find the best fitting, bending the arms (temples) to your specific needs. We recommend bringing your new Roveri Eyewear frame to an optician to help you finding the best fit.